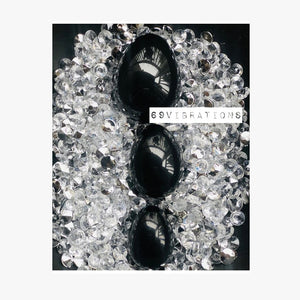 Obsidian Crystal/Yoni Egg
KSh4,700.00

KSh4,700.00

Save KSh2,000
---
---
About this item
100% NATURAL CRYSTAL MADE - The eggs set made by 100% natural Black Obsidian stone. It's friendly and safe for using.
WHY WE NEED THIS EGGS? Yoni Eggs are semi precious natural crystal quartz stones that carved into the shape of eggs which can be healing her body. Yoni Eggs have been used for many decades by the most in-tuned women who know that keeping good healthy of her PC muscles. The more in-tuned a woman is in her femininity the better all her relations will be
PORTABLE: Packing list are 1pcs Large(45*30mm=1.6*1") rose quartz eggs, 1pcs M(40*25mm=1.6*1"), 1S(30*20mm),  1pcs cotton pouch, you can take it to anywhere when travelling.
WHY BLACK OBSIDIAN FOR MASSAGE EGGS? BLACK OBSIDIAN is a BIG power stone and its name from its lovely Black color. This crystal comes in a range of transparent black. It is known as the 'power stone' as its Joy, warmth and healing. This Obisidian crystal egg has a powerful energy that resonates within both the heart chakra and thymus chakra, the area related to compassion.