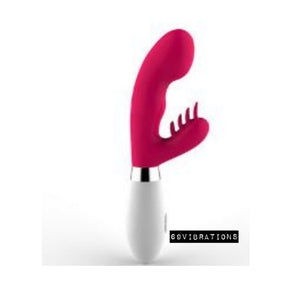 Risque rabbit vibrator
KSh4,100.00

KSh4,100.00

Save KSh1,900
---
---
10 Frequency Vibration Modes: 10 powerful and tantalizing vibration modes, dual stimulation for clitoris & G-spot pleasure. Enjoy different sexual pleasure with the tongue vibrators.
Tongue Design: The vibrator with tongue design evokes your desire. The small tongue touches the outside frantically, the big tongue digs deep into the vagina. G-spot and clitoris are stimulated at the same time, give you more orgasm.
USB Rechargeble Vibrators: With a USB charging, there's no need to worry about the batteries running out when you're enjoying this delicious tongue G spotter vibrator. It is well made with a very comfortable grip, easy to manage controls and use.
Can be Washable: The tongue g-spot vibrator is washable, and can be used in the bathroom, but don't soak it in the water for a long time. Take the dildo vibrator to effectively stimulate G-spot, arousing the most intense orgasms and sexual pleasure.
Discreet Packing & Easy to Carry: There's no product photos and name on the package, so nobody knows what's in the package even the courier. Take it everywhere, you can enjoy it anyplace you want, please charge it fully before using it for the first time.