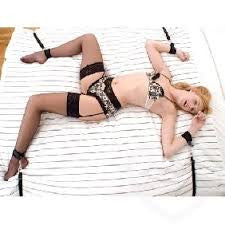 Under the bed restraint
The set comes with four adjustable restraining cuffs that Velcro quickly and easily around your wrists or ankles. And they adjust easily for a secure fit. The cuffs are connected to a metal ring that tucks underneath your bed to keep them out of the way.
You can also use the restraints on their own to form handcuffs or restrain your lover to the bed posts or other objects. The restraints are long enough to fit most mattresses or box springs.